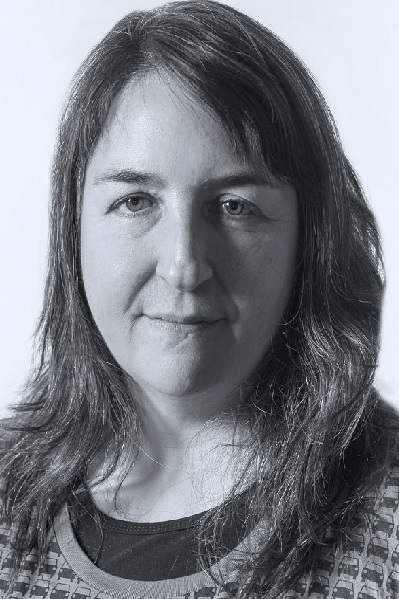 Lisa Myers
Assistant Lecturer
Community Arts Practice (CAP) Coordinator
AOCA, BFA, MFA - OCAD University

Areas of Academic Interest
Visual art, community engaged and participatory practices
Indigenous art activism
Curatorial practice and museum studies
Food studies related to art, value and land
Art theory and criticism
Biography
I investigate cultural agency and the encoding of food as a material in contemporary Indigenous art. Food as a material in artworks may reveal complex power relations and issues for example: rations sent to First Nations communities by the state; relationship to place through plant medicines and 'traditional' food sources; and physical food related health issues, including diabetes. My work is inspired by over a decade of working as a cook for Aboriginal organizations and facilitating cooking, gardening and art programs. My experience as a studio instructor, and as a writing and learning consultant in the Indigenous Visual Culture Program at OCAD University was formative in developing my understanding of critical pedagogy and the significance of community building for Indigenous students in a University context, and I use community-building approaches as an educator, curator and artist. My artwork and participatory performance has been included in venues such as Urban Shaman (Winnipeg), Carleton University Art Gallery (Ottawa) Peterborough Art Gallery (Peterborough) and the Art Gallery of Ontario (Toronto).
My recent curatorial projects include two touring exhibitions - Recast featuring artworks by Bev Koski and Christian Chapman that reconfigure images and objects, recasting them into different roles that confront issues of (mis)representation. Reading the Talk, co-curated with Rachelle Dickenson, features Anishinaabe and Haudenosaunee artists responding to treaties, land, and relationships of value through first considering the Dish with One Spoon Treaty. Other independent curatorial projects include past now (2010) at the MacLaren Art Centre, Barrie; Night Kitchen Under the Table Top (2012) for Nuit Blanche at OCAD U; NOT SO FAST (2013) at York Quay Centre, Harbourfront in Toronto; Recast (2014) at Gallery 44, Toronto; and wnoondwaamin | we hear them (2016) at Trinity Square Video, Toronto.
Major research projects
2018 upcoming - Beads and Pixels (working title), exhibition and conference at Textile Museum of Canada, Toronto.
2017 upcoming October: carry-forward (working title), exhibition at Kitchener Waterloo Art Gallery (KWAG), Kitchener.
2016 upcoming October: wnoondwaamin | we hear them, Trinity Square Video, Toronto.
2014-2017 Reading the Talk, Robert McLaughlin Gallery, Oshawa, Ontario. Touring 2015 to Museum London and Art Gallery of Peterborough 2016 to the MacLaren Art Centre in Barrie, Rodman Hall in St. Catherines, and 2017 to the Woodland Cultural Centre, Brantford.
Select Solo Exhibitions
2015 Blueprints, Prints and Drawings Treasury, Art Gallery of Ontario
2015 Each Portion, animation at Art Gallery of Ontario and Nuit Blanche.
2014 Shore Lunch, multi-site performance commissioned by Fresh Ground, Harbourfront, Toronto.
2013 Waterfront, solo exhibition at Definitely Superior, Thunder Bay, Ontario.
2013 Blueprints for a Long Walk, solo exhibition, Marvin Frances Media and main gallery at Urban Shaman, Winnipeg, Manitoba.
2013 and from then on we lived on blueberries for about a week, MAP Magazine, Online exhibition, Glasgow, UK.
Select Group Exhibitions
Upcoming September 2016: No Visible Horizon, Walter Phillips Gallery, Banff.
Upcoming August 2016: miijim for time beings, collaboration with artist Myung-Sun Kim at Artscape Gibraltar Point as part of the Gendai Kitchen series.
2016 All that you Touch, Ottawa Art Gallery, Ottawa.
2016 Noise Cooking, performance, Ottawa Art Gallery, Ottawa.
2016 Well Read, Participatory art action in collaboration with Ryan Rice and a reading of the Truth and Reconciliation report at OCAD University, Toronto.
2015 Forage, Harbourfront Centre, Toronto.
2015 Shore Lunch, as part of Good Afternoon performance event, Carleton University Art Gallery.
2015 Human Nature, Carleton University Art Gallery.
2015 Representations of Time and Place: Part 2, National Arts Centre Theatre Foyer, Ottawa, Ontario, presented by Aboriginal Affairs and Northern Development.
2014 You Are What You Eat You Are, Owens Art Gallery at Mount Alison University, Sackville, NB.
2014 Artists' Walks, Art Gallery of Peterborough, Peterborough, Ontario.
2013 The Gathering, collaboration with Richard Fung as part of the exhibition Land|Slide, Markham Museum, Markham, Ontario.
2013 All Purpose, collaboration with Sean Martindale and Yvan McKinnon as part of the exhibition Land|Slide at the Markham Museum.
Selected Publications
Journal Publications
2012 "Serving it Up: Recipes, Art and Indigenous Perspective" Senses and Society, Volume 7, Issue 2, pp 173-195.
2012 "Participating in the Ahzhekewada [Let Us Look Back] – Revisioning the Indians of Canada Pavilion" Public, Volume 23, Issue 46 "Prime Mover: On Collecting Media Art", pp 170-172.
2011 "Palate Meets Palette," Umami Food and Art Festival review, Senses and Society. Volume 6, Issue 2, pp 240-244.
Art Publications
2016 "ozhichige: Olivia Whetung", Slip the Snare exhibition catalogue, Morris and Helen Belkin Art Gallery, UBC.
2014 "Land Use," exhibition catalogue for Reading the Talk, Robert McLaughlin Gallery, Oshawa, Ontario.
2012 "Beat Nation" exhibition review in C magazine, Issue 116 "Participation," pp 58-59.
2012 "Gwen MacGregor and Sandra Rechico: Backtrack," A-Trans Pavilion, Berlin, Germany, exhibition review for C Magazine, Issue 112 "Exhibition Practices," pp 50-51.

2011 "4 Reservation Food Groups," C Magazine, Issue 110 "Food," pp 27-28.

2010 "Re-visiting the Warrior: Gord Hill's The 500 Years of Resistance Comic Book" book review, Fuse. Vol. 33. Number 4.