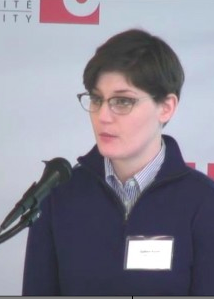 Kaiser, Colleen


Email:
Year Entered: 2014
Dissertation Title
Operationalizing a polycentric approach to climate change governance: Climate policy integration and coherence in Ontario and California's transportat
Comprehensive Areas
Climate Change and Collective Action: A Polycentric Approach to Climate Governance
Environment and climate policy integration
Supervisory Committee
Dr. Mark Winfield; Dr. Ellie Perkins; Dr. Justin Podur; Dr. Andrea Podhorsky
Previous Education
MSc Environmental Policy and Regulation (London School of Economics)
Publications
Services & Experience
Awards
Enbridge Graduate Student Award [2014 – 2015]

York University Faculty of Environmental Studies

Charles Caccia Graduate Award [2013 – 2014]

York University Faculty of Environmental Studies
Conference & Presentations
Conference Presentations
Research Methodology: Climate Policy Integration in Ontario and California's Transportation Sector (2017)

Joint Clean Climate Transport Research Partnership. Host: Université de Montréal; École Polytechnique, Montreal, Quebec

"On the Importance of Sub-national Climate Governance" (2015)

Host: York University Sustainable Energy Initiative. Introductory remarks providing academic framing around the discussion of cooperation on climate change and electricity system integration in Ontario and Quebec.