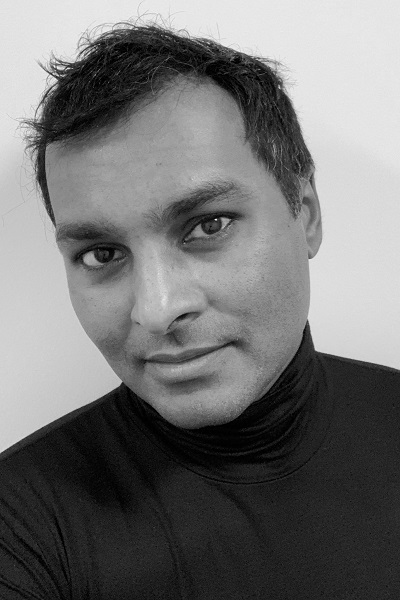 Gosine, Andil
Associate Professor
PhD , York University
MPhil , University of Sussex
BES (Honours) , York University

Artistic Practices & Cultural Studies Environmental Justice Sexualities and Nationalisms
---
Research
Wendy Nanan (Film), Canada Council for the Arts, 2018
All the Flowers, Canada Council for the Arts, 2017
Coolitude: A Digital Archive, Social Sciences and Humanities Research Council, 2015
Awards
Rockaway Waterfront Alliance Artist in Residence
Selected Publications
A. Gosine (2019) "Désir Cannibale: Kelly Sinnapah Mary's Notebook of No Return," Asian Diasporic Visual Cultures and the Americas, Brill.
A. Gosine (2017) "After Indenture," Small Axe, Issue 53, Duke. Guest Editor of Special Themed Section on "Art After Indenture."
A. Gosine (2016) "My Mother's Baby: Wrecking Work After Indentureship," in Indo-Caribbean Feminist Thought, G. Hosein and L. Outar, eds., London: Palgrave.
A. Gosine (2016) "Punghah/Men in Skirts: A Plea for History," Gender and Development: Critical Engagements in Feminist Theory and Practice, Wendy Harcourt, ed., London: Palgrave.
A. Gosine (2015)Real Love and Rescue: Same- sex desire in international development, Institute of Development Studies (monograph)

A. Gosine (2015) "CAISO, CAISO: Negotiating Sex Rights and Nationalism in Trinidad and Tobago," Sexualities (issue date to be determined)

A. Gosine (2015) "Lorraine O'Grady's New Worlds," in Where Margins Become Centers (CCVA)
A. Gosine and C. Teelucksingh (2008) Environmental Justice and Racism in Canada: An Introduction. Toronto: Edmond Montgomery Publications.