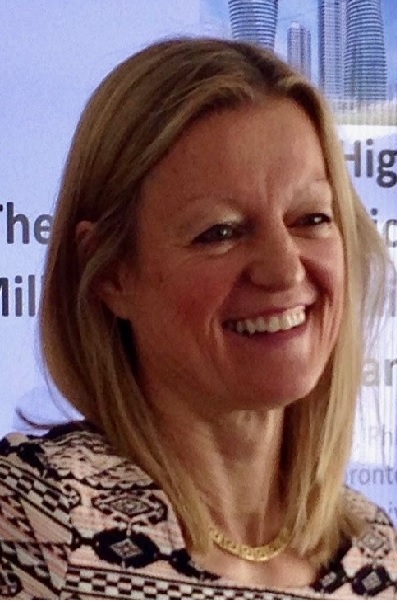 Lehrer, Ute A
Professor
lic. phil. (History of Art and Architecture, Sociology, Economic and Social History) , Zurich
PhD (Urban Planning) , UCLA

Cities and Globalization Economic Restructuring and Urban Form Political Economy of the Built Environment Theory and History of Planning, Urban Design and Architecture Built Environment, Ethnicity and Immigration to Urban Area Global Suburbanisms
---
Research
Global suburbanisms: Governance, land, and infrastructure in the 21st century
(Co-Applicant for SSHRC Major Collaborative Research Initiative 2010-17; 46 researchers; 17 partners).
"Suburban identities in the global city between competition and cooperation: Toronto and Frankfurt", Principal Investigator, SSHRC funded research project (2011-2014).
"Urban Images, public space and the growth of private interests in Toronto", Principal Investigator, SSHRC funded research project (2005-2008).
Awards
German Academic Exchange Service (DAAD) Field Study Grant

American Institute of Certified Planners (AICP), "Towards a Smart Growth Master Plan: Assessment and Recommendations for the Town of Porter"

Western New York Section American Planning Association "Towards a Smart Growth Master Plan: Assessment and Recommendations for the Town of Porter"

New York Upstate Chapter American Planning Association, "Towards a Smart Growth Master Plan: Assessment and Recommendations for the Town of Porter"

UCLA, Latin American Center and the Center for International Business Education and Research Mobility Fellowship

UCLA, Graduate Division Dissertation Year Fellowship

UCLA, Department of Urban Planning Departmental Fellowship

UCLA, Chancellor Fellowship

First prize for poster design, national arts competition; Helvetas
Selected Publications
Books

2018 The Suburban Land Question: A Global Survey. Harris, R. & Lehrer, U. (eds.) Toronto: University of Toronto Press.
1995 Capitales Fatales: Urbanisierung und Politik in den Finanzmetropolen Zürich und Frankfurt, Zürich: Rotpunkt-Verlag; 1995 (Capitales Fatales: Urbanization and Politics in the Financial Metropoles Zurich and Frankfurt), 400 pages (with H. Hitz, R. Keil, U. Lehrer, C. Schmid, K. Ronneberger, R. Wolff).

1988 Wandel und Handel der Kaserne: Die städtebaulichen Vorstellungen dargestellt an den Projekten für das Kasernenareal Zürich 1873 - 1988, Zürich: vdf, 1988 (Land use planning, urban design and urban history in an inner city zone of Zurich), 89 pages.
Chapters in books
2018 Lehrer, U. & Pantalone, P. The Sky is Not the Limit: Negotiating Height and Density in Toronto's Condominium Boom. In A.E.G Jonas, B. Miller, K. Ward & D. Wilson (eds.) Spaces of Urban Politics. New York: Routledge.
2017 Lehrer, U. & Tchoukaleyska, R. Old Wine in New Bottles: Land, Population Growth and Montpellier's Suburban Face-Off. In N. Phelps (ed.) Old Europe, New Suburbanization? Governance, Land and Infrastructure in European Suburbanization. Toronto: Toronto University Press, pp. 133-157.
2016 Room for the Good Society? Public space, amenities and the condominium. In H. Rangan, M.K. NG, L. Porter & J. Chase (eds.) Insurgencies and Revolutions: Reflections on John Friedmann's contributions to planning theory and practice. Boston: Routledge RTPI Library Series.
2016 Belina, B. & Lehrer, U. The global city region: constantly emerging scalar fix, terrain of inter-municipal competition and corporate profit strategy. In J.A. Boudreau, R. Keil, S. Kipfer & P. Hamel (eds.) Governing Cities through Regions: Canadian and European Perspectives, Waterloo: Wilfried Laurier Press.
2013 "FlexSpace – Suburban Forms" In Roger Keil (ed.) Suburban Constellations. Governance, Land and Infrastructure in the 21st Century. Berlin: Jovis, pp. 56-61.

2011 "Urban Development and the Creative Class in a Neoliberal Age: Two Case Studies in Toronto" In: J. Künkel and M. Mayer, (eds), Neoliberal Urbanism and its Contestations: Crossing Theoretical Boundaries, Palgrave, 99-118.

2011 "Urban Design Competitions", In: T. Banerjee and A. Loukaitou-Sideris (eds) Companion to Urban Design. Routledge, 304-316.

2010 "Staatsbesuch - State Visit", In: J. Esefeld (ed) Moskau Moscow Mockba 1987-1988, Stuttgart: edition esefeld & traub.

2008 "Urban Renaissance and Resistance in Toronto", In: L. Porter and K. Shaw. Whose Urban Renaissance? An international comparison of policy drivers and responses to urban regeneration strategies. London: Routledge, 147-156.

2006 "Re-placing Canadian Cities: The Challenge of Landscapes of 'Desire' and 'Despair'", In: T. Bunting and P. Filion (eds.) The Canadian City in Transition, 3rd edition, Oxford Press, 438-449.

2006 "From Possible Urban Worlds to the Contested Metropolis: Urban Research and Activism in the Age of Neoliberalism", In: H. Leitner, J. Peck and E. Sheppard (eds.) Contested Urban Futures, Guilford Press, 291-310, (with R. Keil).

2006 "Willing the Global City: Berlin's Cultural Strategies of Interurban Competition After 1989", In: N. Brenner and R. Keil (eds.), The Global City Reader, Routledge, 332-338.

2005 "The Secret Lives of Toilets: A public discourse on 'private' space in the city", In: A. Wilcox (ed.) uTOpia Toronto: Coach House Books, 194-203. (with D. Cowen and A. Winkler).

2004 "Wo ist die Stadt in der Planungstheorie? Ein Plädoyer für die Stadt in der Stadtplanung", In: U. Altrock, S. Güntner, S. Huning and D. Peters (eds.). Perspektiven der Planungstheorie. Berlin: Leue Verlag, 113-121. ("Where is the city in planning theory? Arguing for the city in urban planning).

2000 "Reality or Image? Place Selling at Potsdamer Platz", In: International Network for Urban Research and Action (ed.), The Contested Metropolis: Six Cities at the Beginning of the 21st Century. Basel, Berlin Boston: Birkhäuser, 44-52.

2003 "Architekturkritik als öffentlicher Diskurs", In: Conrads, Führ and Gänshirt (eds.), Zur Sprache bringen: Kritik der Architekturkritik, Münster: Wachsmann, 213-219. ("Architecture as public discourse").

2000 "Zitadelle Innenstadt: Bilderproduktion und Potsdamer Platz", In: A. Scharenberg (ed.) Berlin: Global City oder Konkursmasse? Berlin: Karl Dietz Verlag, 95-110. (Citadel Inner City: Image Production and Potsdamer Platz).

1998 "Is There Still Room for Public Space? Global Cities and the Privatization of the Public Realm", In: International Network for Urban Research and Action (ed.), Possible Urban Worlds, Basel, Boston: Birkhaeuser, 200-207.

1998 "Urban Policy Responses to Foreign In-Migration: The Case of Frankfurt-am-Main, Germany", In: J. Friedmann and M.Douglass (eds.), Cities for Citizens: Planning and the Rise of Civil Society, London: John Wiley and Sons, 67-90. (with J. Friedman).

Articles in refereed journals
2019 Lehrer, U. and L. March. Verticality, Public Space and the Role of Resident Participation in Revitalizing Suburban High-rise Buildings. Canadian Journal of Urban Research, Summer, 28(1) 65-85.
2015 Lehrer, U., Harris, R. & Bloch, R. The Suburban Land Question. Urban Planning International. 30 (6): 18-26.
2015 "La Question du Territoire Suburbain" Pole Sud: Revue de science de l"Europe méridionale, special issue Sous le foncier, la politique, 42(1) 63-85 (with R. Harris and R. Bloch).
2010 "Reurbanization in Toronto: Condominium boom and social housing revitalization," DISP: The Planning Review, 180: 81-90 (with S. Kipfer and R. Keil).

2009 "Condominium development and gentrification," Canadian Planning and Policy, 18(1)82-103 (with T. Wieditz).

2009 "Gentrification and the Loss of Employment Lands: Toronto's Studio District" Critical Planning, 138-160 (with T. Wieditz).

2008 "Old Mega-projects Newly Packaged? Waterfront Redevelopment in Toronto", Special issue on Megaprojects, edited by S. Fainstein and F. Orueta, International Journal for Urban and Regional Research, 32(4) 786-803. (with J. Laidley).

2006 "Public or private? The Pope Squat and Housing Struggles in Toronto", A. Aguirre, E. Reese, and V. Eick (guest editors) "Privatization and Resistance - Contesting Neoliberal Globalization" Social Justice: A Journal of Crime, Conflict, and World Order. Vol. 33, issue 3 (with A. Winkler).

2005 "The Spectacularization of the Building Process: Berlin, Potsdamer Platz," Genre: Forms of Discourse and Culture, Fall/Winter, 26 (3/4) 383-404.

2003 "Architecture Critique as Public Discourse," Wolkenkuckucksheim: International Journal of Architectural Theory, 8 (2).

1999 "Mike Davis' L.A. Story: Visions of Los Angeles' Other Futures," Capitalism, Nature, Socialism, 39, 45-51. (with R. Keil).

1999 "Case + Study = Case Study? Case Study Approach Used at Potsdamer Platz, Berlin," Critical Planning, Spring, 36-50.

1997 "Migration, Lokalität und Zivilgesellschaft: Immigrationspolitik in Los Angeles," Leviathan, special topic issue, "Immigration and Urban Development," H. Häussermann and I. Oswald (eds.), 427-445. (Migration, Locality and Civil Society: Immigration Politics in Los Angeles) (with J. Friedmann).

1997 "Urban Policy Responses to Foreign In-Migration: The Case of Frankfurt-am-Main, Germany," Journal of the American Planning Association (JAPA), Winter, 61-78. (with J. Friedmann).

1996 "New (Sub)Urbanism: Countersprawl or Repackaging the Product," Capitalism, Nature, Socialism, 7 (26) 49-64. (with R. Milgrom).

1994 "The Image of the Periphery: The Architecture of FlexSpace," Environment and Planning D: Society and Space, 12 (2), 187-205.

1991 "Westway - No Way! Das Scheitern von Stadtentwicklung wegen Autobahnbau in New York City," DISP (Dokumente und Informationen zur Schweizerischen Planung), 106, 37-42. ("Westway - No Way! The Failure of Urban Development through Highway Construction in New York City").

1988 "Ein Dreieck - fünf Lösungen: Wettbewerbsdiskussion anhand der Wohnüberbauung Selnau, Zürich," archithese, February, 56-63. (A triangle - five solutions: urban design competition for community housing in Selnau, Zurich).