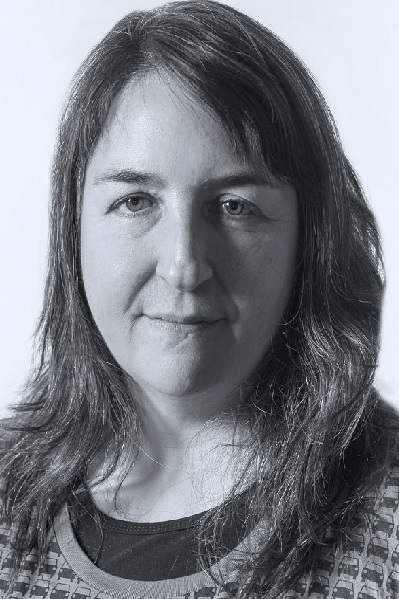 Myers, Lisa
Assistant Professor, Teaching Stream
Cultural & Artistic Practices for Environmental & Social Change Certificate Coordinator
AOCA, BFA, MFA , OCAD University

Visual art, community art, socially engaged art and participatory art practices Indigenous art Curatorial practice, art theory and criticism Food studies related to art, value and land
---
Lisa Myers has a Master of Fine Arts in Criticism and Curatorial practice from OCAD University. She is a member of Chimnissing, Beausoleil First Nation and Assistant Professor in the Faculty of Environmental Studies, York University. She is an internationally recognized artist and curator with a research focus on Contemporary Indigenous art and curatorial practice with a keen interest in interdisciplinary collaboration. Her recent curatorial projects include four touring exhibitions. International recognition of her work includes invitations to participate in exchanges. The Canada Council of the Arts in 2016 invited me to participate in a Tri-Nation International Exchange with Indigenous curators from Australia, Aotearoa/New Zealand, and Canada. This exchange will continue with the 2019/2020 launch of the anthology Becoming our Future: Global Indigenous Curatorial Practice. Her writing has been published in exhibition publications, art publications and peer-reviewed anthologies and journals including Reading the Talk, C Magazine, Inuit Art Quarterly, Senses and Society, and Public, Myers' interdisciplinary collaborations through her diverse art practice includes printmaking, animation and participatory community-engaged projects. Through socially engaged art, she creates gatherings that respond to place. Her projects often include sharing berries and other foods indigenous to the Great Lakes region, in this way she shares and reflects on underrepresented histories and knowledge exchange.
Research
Recent Curatorial Projects
Touring: Beads, they're sewn so tight (2018); Post Script (2018); Carry Forward (2017); Wnoondwaamin|we hear them (2016); and Recast (2013).
Major Projects
2019- With Co-investigator with Professor Sheila Colla on the project Finding Flowers: A biocultural and interdisciplinary approach to pollinator conservation through ecology, art and pedagogy. Finding Flowers is a research project that cultivates Mi'kmaq artist Mike Macdonald's extensive study of the profound relationships between pollinators, medicine plants, Indigenous plant-food networks and extractivist industries. Finding Flowers mobilizes spaces for cross-pollination between environmental matters, Indigenous artistic practice and biocultural research on native plants and pollinators.
2019 upcoming researching and Re-installing artist Mike MacDonald's Butterfly Garden at the Woodland Cultural Centre and at the Kitchener Waterloo Art Gallery (KWAG), Kitchener.
2018-2019 Beads, they're sewn so tight exhibition and conference at Textile Museum of Canada, Toronto.
2018 Shore Lunch in Clarkson as part of the exhibition The Work of Wind. Curated by Christine Shaw at the Blackwood Gallery, University of Toronto Mississauga. This installation will include a circle conversation with Indigenous people and migrant workers in Ontario.
Select Performance and Participatory Projects
2017 Shored-Up Collective as part of the exhibition and performance series Unsettled, collaboration performance, Guild Park, Scarborough.
2016 Playing Spoons, invited as part of Christof Migone's exhibition Mixer. Koerner Hall, Toronto.

2016 miijim for time-beings, collaboration with artist Myung-Sun Kim at Artscape Gibraltar Point as part of the Gendai Kitchen series.

2016 Well Read, Participatory art action in collaboration with Ryan Rice and a reading of the Truth and Reconciliation report at OCAD University, Toronto.

Markham, Ontario.
2013 All Purpose, performance in the installation created with Sean Martindale and Yvan McKinnon as part of the exhibition Land|Slide at the Markham Museum.
Community Projects
2019 Manidoominensagemin Toronto / we are beading in Toronto: Beading Symposium, Textile Museum of Canada, Toronto.
2017 Cooking-as-Inquiry: Wild Rice/Manoomin, leading a series of workshops with guest speakers on cooking and learning, part of the Subtle Technologies Festival, Brickworks, Toronto.
2017 Cooking-as-Inquiry: Family food, hosted a community meal at the Theatre Centre Toronto, three students from my Food, Land and Culture class presented documentary and spoken word.
Select Group and Solo Exhibitions
2018 STEPS, Queens Museum, NY.
2018 The Work of Wind, Land and Sea, Blackwood Gallery, University of Toronto Mississauga.
2018 I continue to shape, Art Museum at the University of Toronto.
2018 From A to Z, Setzkasten and Swischendecke, Vienna, Austria.
2017 Every Now Then: Reframing Nationhood. Art Gallery of Ontario, Toronto.
2015 Blueprints, Prints and Drawings Treasury, Art Gallery of Ontario
2015 Each Portion, Animation at Art Gallery of Ontario and Nuit Blanche.
2014 Shore Lunch, Multi-site performance commissioned by Fresh Ground, Harbourfront, Toronto.
Research Projects

Lisa Myers curator of "Planting One Another" at the Kitchener Waterloo Art Gallery and the Woodland Cultural Centre – spring of 2019 https://kwag.ca/content/mike-macdonald-planting-one-another
This is part of the Finding Flowers Project
Curatorial project Retrospective of Mike MacDonald's artwork – 2021/2022 at Kitchener Waterloo Art Gallery.
Curatorial project that continues to travel across the country: https://kwag.ca/content/carry-forward-curated-lisa-myers
Speaking Engagements and Conferences
Paper presentation, Living Agreement Symposium at the Banff Arts Centre, August 6, 2019.
Kitchener Waterloo Art Gallery, Curatorial Talk for Planting One Another, August 22, 2019. https://kwag.ca/civicrm/event/info%3Fid%3D284%26reset%3D1
Curatorial talk Beads, they're sewn so tight at the Thunder Bay Art Gallery, October 4, 2019.
Native American Art Studies Association (NAASA), paper presentation, October 2-6, 2019.
Awards
Ontario Arts Council, Aboriginal Curatorial Project

Ontario Arts Council, Aboriginal Curatorial Project

Joseph Armand Bombardier Scholarship, Social Sciences & Humanities Research Council (SSHRC)
Selected Publications
Journal Publications
2012 "Serving it Up: Recipes, Art and Indigenous Perspective" Senses and Society, Volume 7, Issue 2, pp 173-195.
2012 "Participating in the Ahzhekewada [Let Us Look Back] – Revisioning the Indians of Canada Pavilion" Public, Volume 23, Issue 46 "Prime Mover: On Collecting Media Art", pp 170-172.
2011 "Palate Meets Palette," Umami Food and Art Festival review, Senses and Society. Volume 6, Issue 2, pp 240-244.
Art Publications
2016 "ozhichige: Olivia Whetung", Slip the Snare exhibition catalogue, Morris and Helen Belkin Art Gallery, UBC.
2014 "Land Use," exhibition catalogue for Reading the Talk, Robert McLaughlin Gallery, Oshawa, Ontario.
2012 "Beat Nation" exhibition review in C magazine, Issue 116 "Participation," pp 58-59.
2012 "Gwen MacGregor and Sandra Rechico: Backtrack," A-Trans Pavilion, Berlin, Germany, exhibition review for C Magazine, Issue 112 "Exhibition Practices," pp 50-51.

2011 "4 Reservation Food Groups," C Magazine, Issue 110 "Food," pp 27-28.

2010 "Re-visiting the Warrior: Gord Hill's The 500 Years of Resistance Comic Book" book review, Fuse. Vol. 33. Number 4.