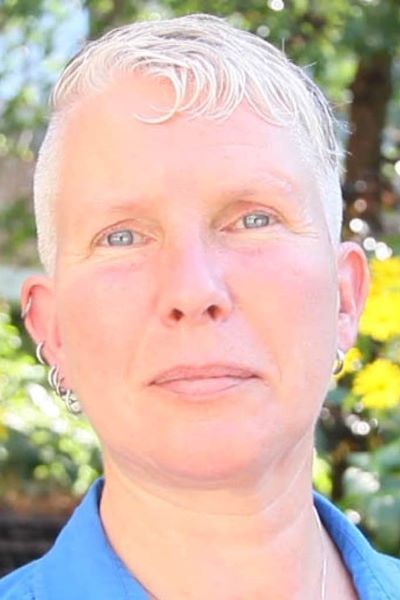 Sandilands, Catriona A H
Professor
PhD Coordinator
Trudeau Research Fellow
BA Hons (Sociology) , Victoria
MA (Sociology) , York
PhD (Sociology) , York

Environmental cultural studies Environmental/ecological literary criticism, environmental writing Sexuality, gender and environments: queer ecologies, ecological feminisms Nature and environment in social and political thought Everyday human/plant relations, vegetality, and botanical biopolitics
---
Since my appointment to the Faculty in 1994, I have considered my primary task as a teacher, writer and researcher to be the cultivation of the "plurality" of which Arendt writes so eloquently. We build and perceive a common world only insofar as we are articulate and passionate speakers of our own, unique relationships to it. This necessary connection of worldliness and plurality strikes me (even if it might not have Arendt) as especially true for our relationships to natural environments: only by developing a deeply particular understanding of the natural communities of which we are a part can we appear to one another in common to discuss them, and only by holding our perceptions up to the scrutiny of others can we understand our own individuality.
Reading and writing environmental literature is thus, in its exceptional focus on the tending of this relationship of plurality, a vital part of the development of an environmental public sphere. I understand my writing about Jane Rule and Derek Jarman, alongside yet quite different from my teaching of Henry David Thoreau and Catharine Parr Traill, as related acts to encourage understanding through specificity.
Research
Storying Climate Change: Narrative, Imagination, Justice, Resilience - 2016-2017 (Trudeau Fellowship)
Canada Research Chair in Sustainability and Culture - 2004-2014
Awards
Selected Publications
Selected recent and imminent publications:

In progress, A Very Queer Citizen: Jane Rule's Public Lives (for The University of British Columbia Press).

In progress, "Emplanting Publics: Vegetal Life and Environmental Politics," for Teena Gabrielson et. al (eds.), The Oxford Handbook of Environmental Political Theory, Oxford University Press (2016).

In progress, "Ecology," for Imre Szeman, Justin Sully and Sarah Blacker (eds.), A Companion to Critical and Cultural Theory, Wiley-Blackwell (2016).

In review, "Fire, Fantasy and Futurity: Queer Ecology Visits Silver Bush," for Jean Mitchell and Rita Bode (eds.), L.M. Montgomery and the Matter of Nature, University of Toronto Press (2015).

In review, "Losing My Place: Landscapes of Depression," for Ashlee Cunsolo Wilcox and Karen Landman (eds.), Environment and Mourning, McGill-Queen's University Press (2015).

Contracted (ed., with Ella Soper and Amanda Di Battista), Green Words / Green Worlds: Environmental Literatures and Politics (for Wilfrid Laurier University Press, 2015).
2014 "Pro/polis: Three Forays into the Political Lives of Bees," in Serpil Oppermann and Serenella Iovino (ed.), Material Ecocriticisms (Bloomington: Indiana University Press), pp. 157-71.
2014 "Queer Life? Ecocriticism After the Fire," in Greg Garrard (ed.), The Oxford Handbook of Ecocriticism (New York: Oxford University Press), pp. 305-19.
2014 "Violent Affinities: Sex, Gender and Species in Cereus Blooms at Night," in Louise Westling (ed.). The Cambridge Companion to Literature and Environment (New York: Cambridge University Press), pp. 90-103.
2014 "Acts of Nature: Literature, Excess and Environmental Politics," in Smaro Kamboureli and Christl Verduyn (ed.), Critical Collaborations: Indigenity, Diaspora, and Ecology in Canadian Literary Studies (Waterloo: Wilfrid Laurier University Press), pp. 127-142.
2013 "Dog Stranglers in the National Park? National and Vegetal Politics in Ontario's Rouge Valley," Journal of Canadian Studies 47.3 (Fall).

2013 "Plant Stories," Environmental Humanities, http://environmentalhumanities.org/2013/10/01/editorial-profile-catriona-sandilands/

2013 "'I Still Need the Revolution': Cultivating Ecofeminist Readers," in "Ecofeminist Perspectives on Literature," Twentieth Century Literary Criticism (reprint of "'I Still Need the Revolution,'" Teaching North American Environmental Literature, 2008); Independence, KY: Gale Cengage Learning.

2013 "Calypso Trails: Botanizing Expeditions on the Bruce Peninsula," in Ella Soper and Nicholas Bradley (eds.), Greening the Maple: Canadian Ecocritical Traditions (reprint of "Calypso Trails," Dalhousie Review, 2010), Calgary: University of Calgary Press.

2013 (with Peter Hobbs) "Queen's Park and Other Stories: Toronto's Queer Ecologies," in L. Anders Sandberg, Stephen Bocking, Colin Coates and Ken Cruikshank (eds.), Urban Explorations: Environmental Histories of the Toronto Region. Hamilton, ON: L.R. Wilson Institute for Canadian Studies, McMaster University.

2011 "Cap Rouge Remembered? Whiteness, Scenery and Memory in Cape Breton Highlands National Park," in Andrew Baldwin, Laura Cameron and Audrey Kobayashi (eds.), Rethinking the Great White North: Nature and the Geographies of Whiteness in Canada (Vancouver: University of British Columbia Press).

2011 "Green Things in the Garbage: Ecocritical Gleaning in Walter Benjamin's Arcades," in Axel G Goodbody and Kate Rigby (eds.), Ecocritical Theory: New European Approaches (Charlottesville: University of Virginia Press).

2010 (ed., with Bruce Erickson), Queer Ecologies: Sex, Nature, Politics, Desire (Bloomington: Indiana University Press).

2010 "Thinking Ecology in Fragments: Walter Benjamin and the Dialectics of (Seeing) Nature," in Brenda Iijima and Evelyn Reilly (eds.), eco (lang)(uage(reader)), (Brooklyn, NY: Portable Press).