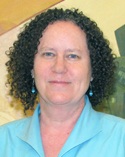 Sturgeon, Noel A.
Professor Emeritus
BA Political Studies , Bard College
PhD History of Consciousness (Politics) , University of California

Social movements, especially feminist, environmental and environmental justice Representations of nature and environmentalism in popular culture and mass media Feminist, political and cultural theory Direct action and nonviolent social change practices Global feminist environmental justice cultural studies
---
Research
Recent works
Presentation: "Avatar and Activism: Ecological Indians, Climate Justice and Disabling Militarism"
Awards
Martin Luther King, Jr. Faculty Service Award, Washington State University (WSU)

Susan Armitage Award for Teaching in Women Studies, WSU

Regents Fellowships, University of California, Santa Cruz
Selected Publications
Books:
Environmentalism in Popular Culture: Gender, Sexuality, Race, and the Politics of the Natural (University of Arizona Press 2009)
Ecofeminist Natures: Race, Gender, Feminist Theory and Political Action (Routledge 1997).

Articles:
"Re-inspiration, Re-Commitment, and Revolution: Revisiting The Death of Nature After 25 Years," Journal of Environmental History, October 2005.

"Achieving Peace and Security: A Transnational Environmental Feminist Perspective," translated into Japanese for the Proceedings of the Annual Peace and Social Justice Conference, published by International Christian University and Sofia University, Tokyo, Japan, 2005.

"Feminism and Environmentalism in a Time of War," Journal of Environmental Law and Litigation, 18(1) (Spring 2003): 209-222.

"Privilege, Nonviolence and Security: An American Ecofeminist Responds to 9/11," Women and Environments International, 52/53 (Fall 2001): 7-10.

"Ecofeminist Appropriations and Transnational Environmentalisms," Identities: Global Studies in Culture and Power (special issue entitled "Unintended Consequences: On the Practice of Transnational Cultural Critique," edited by Peter Brosius), 6:2-3 (1999): 255-279.

"Positional Feminism, Ecofeminism, and Radical Feminism Revisited," American Philosophical Newsletter of Feminism and Philosophy, 93:1 (Spring 1994): 41-47 (special issue on feminist peace activism).
Selected Book Chapters:
"Penguin Family Values: The Nature of Planetary Environmental Reproductive Justice," in L. Anders Sandberg and Tor Sandberg, eds., Climate Change: Who's Carrying the Burden: The Chilly Climates of the Global Environmental Dilemma (Canadian Centre for Policy Alternatives, 2010). (Revision of chapter from Queer Ecologies).

"Penguin Family Values: The Nature of Environnmental Reproductive Justice," in Catriona Sandilands and Bruce Erickson, eds., Queer Ecologies: Sex, Nature, Politics and Desire (Indiana University Press 2010).

"Achieving Peace and Security: A Transnational Environmental Feminist Perspective," in Yoichiro Murakami, Noriko Kawamura and Shin Chiba, eds. Toward a Peaceable Future: Redefining Peace, Security and Kyosei from a Mutlidisciplinary Perspective (Washington State University Press, 2005).

"'The Power is Yours, Planeteers! Naturalizing Inequalities in U.S. Children's Environmentalist Popular Culture," in Rachel Stein, ed., New Perspectives on Environmental Justice: Gender, Sexuality, and Activism (Rutgers 2004).

"Naturalizing Race: Indigenous Women and White Goddesses," in Michael Zimmerman, Baird Callicott, John Clark Karen Warren, and Irene Klaver, eds., Environmental Philosophy: From Animal Rights to Radical Ecology, 4th ed, (Prentice Hall 2004) (On request, revised and combined two chapters from Ecofeminist Natures.)

"Ecofeminist Natures and Transnational Environmental Politics," in Heather Eaton and Lois Lorentzen, eds., Ecofeminism and Globalization: Religion, Context and Culture (Rowan and Littlefield 2003). (Requested reprint of chapter from Ecofeminist Natures.)

"Ecofeminist Natures and Transnational Environmental Politics," in Carole McCann and Seung-Kyung Kim, eds, Feminist Theory Reader: Local and Global Perspectives (Routledge, 2002). (Requested reprint of Identities article, edited version.)

"Environmentalism/Feminism: Constructing Translations," in Joan W. Scott, Cora Kaplan, and Debra Keates, eds., Transitions, Environments, Translations: Feminisms in International Politics (Routledge, 1997).

"The Nature of Race: Discourses of Racial Difference in Ecofeminism," in Karen J. Warren, ed., Ecofeminism: Women, Nature, Culture (Indiana University Press, 1997).

"Theorizing Movements: Direct Action and Direct Theory," in Marcy Darnovsky, Barbara Epstein, Richard Flacks, eds., Cultural Politics and Social Movements (Temple University Press, 1995).
Selected Book Reviews:
"Considering Animals: Kheel's Nature Ethics and Animal Debates in Ecofeminism, "in Ethics and the Environment, special issue on Val Plumwood and Ecofeminism, Fall 2010.

Review of Carolyn Merchant's Earthcare: Women and the Environment, in Environmental History, 2:3 (July 1997).

Review of Karen J. Warren's Ecological Feminism, in Gender, Place, and Culture: A Journal of Feminist Geography; 3:1 (1996).

Review of Joni Seager's Earth Follies: Coming to Feminist Terms With The Global Environmental Crisis, in Society and Nature: The International Journal of Political Ecology, 2:3 (October 1994).

Encyclopedia Entries:
"Ecofeminism"; essay in Nancy Naples, ed. The Encyclopedia of Sociology (Blackwell, 2006).