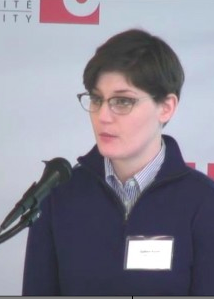 Kaiser, Colleen
MSc Environmental Policy and Regulation (London School of Economics)
---
Dissertation Title
Operationalizing a polycentric approach to climate change governance: Climate policy integration and coherence in Ontario and California's transportat
Comprehensive Areas
Climate Change and Collective Action: A Polycentric Approach to Climate Governance

Environment and climate policy integration
Affiliations
Robarts Centre for Canadian Studies
Paper Presentations
Research Methodology: Climate Policy Integration in Ontario and California's Transportation Sector (2017)

Joint Clean Climate Transport Research Partnership. Host: Université de Montréal; École Polytechnique, Montreal, Quebec

"On the Importance of Sub-national Climate Governance" (2015)

Host: York University Sustainable Energy Initiative. Introductory remarks providing academic framing around the discussion of cooperation on climate change and electricity system integration in Ontario and Quebec.
Awards
Enbridge Graduate Student Award [2014 – 2015]

York University Faculty of Environmental Studies

Charles Caccia Graduate Award [2013 – 2014]

York University Faculty of Environmental Studies
Invited Talks